What's up people. Welcome to another article.
My name is slim Olope aka abbey. I Am a content creator and I also do youtube videos. So kindly subscribe to my youtube channel here.
In this article, I want to tell you why I hate blogging.
Why Did I Write Create This Content 
I blogged for more than a year with no significant result to show.
The reason why am making this content is to encourage new online entrepreneurs to know the best angle to start from if you want to make money online.
Don't get me wrong. Blogging use to be a very lucrative job and it is still making a lot of money for some people.
Also Read:
1. Blogging Profitability And How To Set up one Yourself, free of charge!
2. How to Create a Website With WordPress to Make Money Online?
The problem with blogging is that it takes a very long time to start making money and it requires very hard work.
Why I started blogging was because I believe I like to write and I will like to profit from my writing.
Apart from that, I also love to help people. So I decided to share my knowledge on the blog.
To be sincere, the major problem I face with making money on my blog is how to finally make money with it.
I know there are many content creators Out there claiming to have a course or book that will teach you various ways to monetize your blog.
It all sounds good until you realize that nobody is even reading your blog not to talk of clicking your affiliate links or google ads.
The key to success in blogging is audience, consistency, and patience. If you can wait 3-4 years of hard work without making any significant amount with blogging, then you can try it out…
But if you are not living with your parent, and you don't have anyone giving you free money to put your shit together, I will advise you to look for a better online business opportunity.
There are better ways online to make a huge amount of money easily.. when I say easily, I mean easier than blogging.
One of the easy ways to make money online is dropshipping.
Me myself, I am a dropshipping entrepreneur. After blogging for two years with no result, I decided to start selling physical products from Aliexpress.
I started by signing up with Shopify. Shopify is a fully hosted eCommerce website creating platform. It is user-friendly and requires a monthly payment of 29 USD.
I make my first sale on Shopify within 2 weeks.
And after 2 months on Shopify, I heard about Alidropship plugin. Alidropship plugin is a WordPress tool for Turning a WordPress website into a fully functional eCommerce shop.
I decided to move my eCommerce shop to woo-commerce because of alidropship plugin. With alidropship plugin, I can import an unlimited number of product from aliexpress and I also don't need to work as hard as I do with Shopify.
Another interesting fact about alidropship plugin on WordPress is that, I only made a one-time payment of 89 USD to purchase the plugin and I never pay any money again.
Forever, I will not need to pay for the plugin. Meanwhile, on Shopify, I need to keep paying 29 USD every month and I can only import 500 products.
Or else, I need to pay more so in my opinion, Shopify is expensive especially when you are just starting.. you need to develop your business. So you need to save cost.
The fact that I have always been using WordPress for blogging also gives me a head start with my new eCommerce business on WordPress.
Once I started selling full time on my new WordPress dropshipping store, the money starts flowing in and I started getting quality customers.
Normally during my blogging days, my audience was young entrepreneurs because I blog about how to create a blog and stuffs like that.
But the moment I start selling physical products, my audience changed to matured people from all parts of the world and things get very interesting. For this reason, i decided to write this post about why I hate blogging
I realize I have been wasting my time blogging all this while.
Even though I still write blog posts for my dropshipping website, I know I don't depend on it and people can read it or not…
By selling physical products via dropshipping, I have been able to scale from 10 USD a week to over 1000 USD a week.
So if you are looking to make money online, dropshipping is your best bet.
However, I never said dropshipping is a get rich quick scheme.. am just saying its easier to make money with dropshipping than blogging.
In my opinion, dropshipping is the best online business for young entrepreneurs to earn a living online.
See: Why Dropshipping Is Profitable
So if you are interested in starting your own dropshipping business today, kindly check the links in the description of this video because am giving away my special report ebook titled dropshipping 101.
This free special report will teach you all the basics of dropshipping and how to get started.
I will also leave a link to an article I wrote concerning how to create a dropshipping website with WordPress and alidropship plugin.
For those who don't want to create their dropshipping website themselves, you can buy a ready-made store from alidropship.
Many people just buy a ready-made store and start selling.
In my opinion, the ready-made store is the best. It saves you a lot of time and you can rest assured you won't have an amateur business website.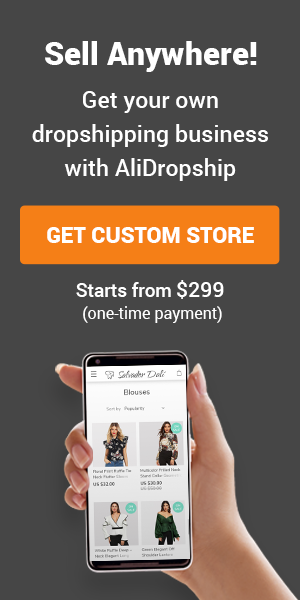 To get your own ready-made dropshipping store today, click here 
So that's all I have for you in this article titled why I hate blogging 
The point of this article is to tell you that I hate blogging because its a waste of time in my case and dropshipping is my lifesaver in the internet business world.
I use WordPress and alidropship plugin to create my current dropshipping store and am making a good amount of money every week. To learn how to create a WordPress website, click here
If I can do it, you. Can do it. But Watch this first: 4 DISADVANTAGES OF SELLING ONLINE 
Many people are saying great stuff about dropshipping on WordPress with alidropship plugin. You can check out some testimonies on the alidropship website.
And if you are interested in getting your own dropshipping business today, there are two options.
Do it yourself or buy a ready-made store. I Recommend buying a ready-made store because it would be built by professionals and its not expensive at all.
So that is why I hate bogging and what replaced blogging for me. thanks for your time.. until next time when I will be coming your way with another fresh content, please like this video, comment, subscribe and turn on notification to receive the update anytime I drop a new video.
My name is slim Olope aka abbey.
Peace
Also, watch